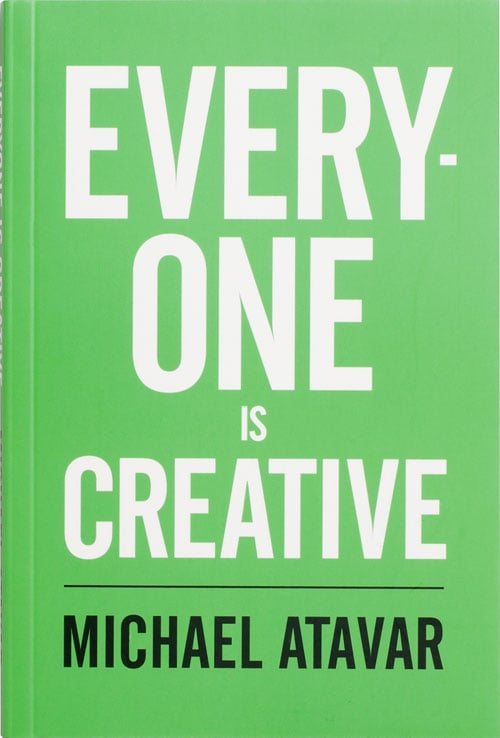 Everyone Is Creative
2013
Focuses on the power of creativity and how it can transform your life.
ISBN-13: 978-0953107339
Paperback: 256 pages
Size: 180mm X 120mm
Shrink-wrap
Introduction
What do we need to be creative?
Actually we already have the tools within us; we carry them with us every day – our eyes.
All that's required is that we see, use our vision and accurately record the world around us.
Nothing more is needed.
This book offers some suggestions for developing your ability to see – where to place emphasis, what to look at, where to start. Always encouraging you to develop your 'unique eye', a vision of the world that I believe you already innately possess.
Everyone is creative.
Everyone is creative, whether they admit it or not, whether they accept it or not. So try being an 'artist', embrace the 'A' word. Look around – what is happening right now in front of you?
Try it.
What have you got to lose?
Everyone Is Creative is the third in Michael Atavar's series of books about creativity, following on from How To Be An Artist and 12 Rules Of Creativity.
Contents
ONE IDEA On Your Own / Basics / Rucksack / Leave The Stage Empty
MATERIALS I Start With Materials / If You Think... / Sensuality & Surface / Use You / Emergence & Risk / Factory Blue / Foggy Landscape
ARTIST'S STATEMENT I Believe / A Piece Of Fiction / Fireworks / Write In Reverse / Chop Wood
MANIFESTO You Are Not Alone / Anti-You / This Page Is Left Blank / Draw Blood
THINK SMALL 100-1% / Playing Scales / Blurred Pictures / Offending The Audience
UNIQUE EYE One Book / Nothing To Say (I Don't Believe You) / X-Rays / Poor Art / Write It Down / I'm Drawn To Ideas X, Y, Z
SEEING Taboo Against Looking / What Do I See? / Use Whatever Is Already There
IMAGES An Opening Into You / Draw Approximations / The Desert / Wild Horses On The Wall / Found Material / Le 'C' Dream / The Reverse
I SEE A Glass On A Table / Rods / I See A Palm Tree / Long Stories / Laser Cone / Ishihara
EVERYONE IS CREATIVE Art Is... / Rhododendrons / Dirty Water / The Fountain / Close Your Eyes
Sample
Art is easy...
However, being an artist is more difficult. It requires discipline, bravery, originality and perseverance.
(None of these are easily won.)
To accomplish these goals, focus on your day-to-day creativity, rather than attempting to make 'Art' with a capital 'A'. If you follow this modest path of everyday achievement, you won't go far wrong.
Forget all sorts of fixation with creating products; it won't help you. Instead, invest in a daily process as the mainstay of your practice.
Look at things – even if this first appears difficult. Keep your eyes open all your life; look at shapes, faces, colours, lights.
Even if there's 'nothing there', even if there's a brick wall, or grey clouds, there is always something worth looking at.
Trust your 'unique eye', your original seeing of the world. It's the basis of all art and the centre of your creativity.
Your world is unique, intrinsic to you.